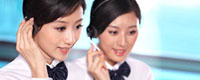 Name: Mr. Li Xiu Bin(HQ in China)
Tel: +86-13953635690
E-mail: leexiu2013@sina.com
Add: Santong Plastic Co. Ltd, Qiaoguan Township, Changle County, Shandong Province, 262400,China
Skype: leexiu2006
QQ: 2868526367





Established in 2005, we are a professional manufacturer and exporter of PVC hoses. Our company is based in Changle County, Shandong Province, China, one of the most important plastic processing centers across China.
Our products mainly include: PVC Fiber Reinforced Hose, PVC Steel Wire Reinforced Hose, PVC Lay Flat Hose, PVC Garden Hose, PVC Clear Hose, PVC Garden Hose, High Pressure Spray Hose, Gas Hose, PVC Suction Hose, Braid Reinforced Hose, Stretch Hose, PVC Steel Wire and Fiber Composite Hose, Air Hose and so many other related products. Also we accept OEM orders and make them according to your specific requirements.
Over the years, we are enjoying a good reputation of our high quality products, excellent services as well as our prompt shipments.
We are looking forward to working together with you and winning both sides.